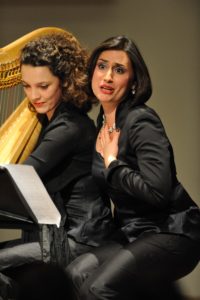 DUO BILITIS: EVA TEBBE- harp and voice & EKATERINA LEVENTAL- harp and mezzo soprano
"Even the duo is not a duo. It is the two of them, it is the three of them (and even the four of them). Depending on what's needed.
No, nothing is what it seems to be. Hence, there is a constant thrill at various levels – a vibration. You could call it movement. The continuous movement of music. Music wanders. Always. Let it flow."
Lex Bohlmeijer
-Captivating because of the fine interaction of the duo creating a large dynamic range and a wealth in timbre through the music, varied because Bilitis makes interesting choices at the compilation of their repertoire exceeding the standard harp repertoire –
Duo Bilitis has made a name for themselves since their establishment in 2004, by their remarkable line-up, captivating and talked-about programme and intense interplay. Besides their passion for the same instrument the harpists Eva Tebbe and Ekaterina Levental also share a musical mentality; they gladly seek new adventures and avoid consessions and compromises. Ekaterina Levetal´s double-role, who´s also a mezzo soprano, gives the duo an unique position within chamber music circles, home and abroad.
Duo Bilitis´ substantial repertoire includes existing compositions from many diffrent style eras, their own arrangements and new repertoire written specialy for the duo. The modern composers as Jeff Hamburg, Chiel Meijering, Boudewijn Tarenskeen, Daan Manneke, Oene van Geel, Gijs van Dijk en Lowell Dijkstra wrote and dedicated their pieces for this ensemble.
The duo performed at renowned venues, theatres and concert halls in the Netherlands and abroad. They released their debut CD "Le Jardin Feerique" at Brilliant Classics/Foreign Media, which is being sold worldwide. In 2011 they released their second CD "L´Heure Espagnole" with the works by Granados, De Falla, Ravel and Montsalvatge. The third CD based on the works by Debussy is planned for the future.
Duo Bilitis won the International Chamber Music Competition in Almere 2008, Holland. the fifth edition of the UITMARKT Chamber Music Competition in Amsterdam and is the finalist of the 15th International Jewish Music Competition 2010.
– Ekaterina and Eva are gifted with extraordinary musicality, professionalism and dedication. Because of the interesting combination of their ensemble and their stunning performance capacities, they manage to captive any audience. Not only should I describe a concert of the Duo as moving, but they bring a sense of humor to their performances as well –
Emmy Verhey, concert violinist
More information: www.duobilitis.com
Download here the complete CV of Duo Bilitis:
Photo: Michael Wesseling en Eric Brinkhorst